About Nanobiosym and Nanobiosym Diagnostics 
Nanobiosym® (NBS) is an innovation engine dedicated to creating a new science that emerges from the holistic integration of physics, biomedicine, and nanotechnology. NBS focuses on incubating transformational technologies that have the potential for game-changing impact and commercializing and scaling up these technologies for deployment in developed and developing world markets. NBS leverages science and technology to address our planet's greatest unmet needs in global health, energy and the environment.
Nanobiosym® Diagnostics (NBSDx) focuses on the commercialization of the Gene-RADAR®, a portable nanotechnology platform that can rapidly and accurately detect genetic fingerprints from any biological organism, empowering people worldwide with rapid, affordable, and portable diagnostic information about their own health.
To maximize global humanitarian impact, we have spearheaded the Nanobiosym Global Initiative, which is building innovative public-private partnerships with governments, NGO's, academic, industrial and global thought leaders to help bring emerging technologies to address some of the world's most pressing challenges.
About Dr. Anita Goel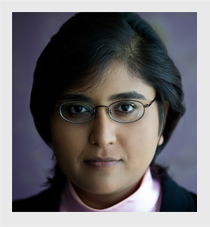 Dr. Anita Goel, MD Ph.D is a world-renowned expert and pioneer in the emerging field of Nanobiophysics - a new science at the convergence of physics, nanotechnology, and biomedicine.  Whereas modern physics in the 20th century was developed primarily in the context of closed systems, Dr. Goel seeks to expand conventional theoretical and experimental physics frameworks and their mathematical machinery to describe non-equilibrium, open systems such as life and living systems that are strongly coupled with their environment. She has developed a new theoretical physics framework that elucidates the interplay of matter, energy, and information at a very fundamental physics level. Dr. Goel harnesses these insights to examine one of the most basic processes of living matter, the way nanomotors read and write information into DNA, how this process is influenced by the environment, and how quantum mechanics might play a "nontrivial" role in their dynamics. Dr. Goel was named by MIT's Technology Review Magazine as one of the World's "Top 35 science and technology innovators."
As Chairman and CEO of Nanobiosym® and Nanobiosym® Diagnostics, Dr. Goel has harnessed these fundamental insights to invent, incubate, and start commercializing next-generation nanotechnology platforms like Gene-RADAR® for Mobile and Personalized Health, energy harvesting and quantum computing with molecular nanomachines that read and write information in DNA. Her pioneering works have been recognized globally by prestigious honors and awards including multiple awards from US Government agencies such as DARPA, DOD, DOE, AFOSR, NSF, USAID, HHS and most recently was awarded the XPRIZE by in the 2013 Nokia Sensing X Challenge.
Dr. Goel has been featured as a frequent keynote speaker and distinguished faculty lecturer at leading universities and institutions including Harvard, MIT, the Health Sciences and Technology (HST) Division of Harvard Medical School, Harvard Business School, Harvard Kennedy School, MIT Sloan School of Business, Zurich ETH, National University of Singapore, Princeton, Santa Fe Institute, AAAS, DARPA Advanced Workshops, National Academy of Sciences, National Academy of Engineering, National Institute of Standards and Technology (NIST). 
She was invited by Senator John Kerry to give expert testimony before the US Senate in support of the $1.5 Billion dollar US National Nanotechnology Initiative and has advised President Obama's Strategy for American Innovation for the President Council of Advisors on Science and Technology (PCAST) to help build the roadmap for harnessing nanotechnology to stimulate the US economy. In 2011, Dr. Goel and former UK Prime Minister Tony Blair delivered a joint keynote address on Tackling Global Challenges at the Annual Novartis Forum in Madrid and Charles Vest invited her to serve on the Committee on Manufacturing, Design, and Innovation of the National Academy of Engineering (NAE) to look at the future of manufacturing in the US.
Dr. Goel holds a Ph.D. and M.A. in Physics from Harvard University, an MD from the Harvard-MIT Joint Division of Health Sciences and Technology (HST) at Harvard Medical School and a BS in Physics with Honors & Distinction from Stanford University. She has published several scholarly articles in leading scientific journals such as Nature Nanotechnology, Scientific American-India and the Proceedings of the National Academy of Science and contributed innovative book chapters such as in the pioneering work on Quantum Aspects of Life, with over 35 patents worldwide to her name.
Dr. Goel serves on the Canadian Institute for Advanced Research (CIFAR) research council, is a Fellow of the World Technology Network, a Fellow-at-Large of the Santa Fe Institute, an Adjunct Professor at the Beyond Institute for Fundamental Concepts in Physics, and an Associate of the Harvard Physics Department. She is a founding member of the Global Council for Center of Healthcare Innovation (CHI), a Board Member of the US National Board of Museums of Science and Industry, has served on the Board of Overseers of the Boston Museum of Science, the Board of Trustees & Scientific Advisory Board of India-Nano, and as a Member of the NIH Review Panel for NANO. She also serves on the Nanotechnology Advisory Board of Lockheed Martin Corporation and the Scientific Advisory Board of PepsiCo. 
Nanobiosym Distinguished Board of Advisors 

Mr. Alfred Ford is a Director of the Ford Motor Company Fund and the Josephine Ford Cancer Center at Henry Ford Hospital in Detroit, Michigan. He serves on the advisory board of ChannelNet. Continuing the legacy of his great grandfather Henry Ford, Mr. Ford and his wife, Dr. Sharmila Bhattacharya, PhD, are visionary entrepreneurs and philanthropists with deep strategic interests in improving global health, particularly in the developing world. Mr. Ford is Chairman of the Board of Himalayan Ski Village Private Limited, a $500 Million project developing an eco-friendly ski resort in the Himalayas in India.

Ambassador John Palmer was US Ambassador and Plenipotentiary to Portugal and is currently the Chairman of Gulf South Capital, Inc. Ambassador Palmer served as Chairman of SkyTel from 1989 until its sale in 1999. President George Bush appointed Ambassador Palmer to sit on the President's Export Council, and President Ronald Reagan appointed him as advisor to the Office of the US Trade Representative.

Mr. John Abele is the retired Founding Chairman of Boston Scientific Corporation, a world-wide market leader in medical devices, with more than 25,000 employees and 13,000 products delivered in over 45 countries. Mr. Abele is a pioneer and thought leader in the field of "Less Invasive Medicine." He holds numerous patents and has published and lectured extensively on the technological, social, economic and political issues affecting healthcare. Mr. Abele's current interests include science literacy for children, education, and the process by which new technology is invented, developed, and introduced to society. Mr. Abele currently serves as the Chairman of the Board of F.I.R.S.T. (For Inspiration and Recognition of Science and Technology) Foundation with the mission to inspire young science and technology leaders.

Mr. Ratan N. Tata has been Chairman of Tata Sons, the holding company for the Tata Group, since 1991. He is also the Chairman of two of the largest philanthropic trusts in India. Mr. Tata is a member of the Asia-Pacific Advisory Committee to the Board of Directors of the New York Stock Exchange, the International Advisory Council of Singapore's Economic Development Board, and of the international advisory boards of the Mitsubishi Corporation, the American International Group, JP Morgan Chase and Rolls Royce. In India, Mr. Tata is the Chairman of the Government of India's Investment Commission and a member of the Prime Minister's Council on Trade and Industry, the National Hydrogen Energy Board and the National Manufacturing Competitiveness Council. Mr. Tata serves as President of the Court of the Indian Institute of Science and Chairman of the Tata Institute of Fundamental Research. He is a member of the Board of Trustees of Cornell University and the University of Southern California, as well as the Global Business Council on HIV/AIDS and the Program Board of the Gates Foundation's India AIDS Initiative. Named one of Time Magazine's "100 Most Influential People of 2008," Mr. Tata has been honored by the Government of India with two of its highest civilian awards, the Padma Vibhushan and the Padma Bhushan.

Dr. Robert S. Langer has helped launch 25 companies, and has licensed over 250 patents to pharmaceutical, chemical, biotechnology and medical device companies. Dr. Langer focuses on helping Nanobiosym customize its nanotechnology platforms for companion diagnostic applications that accelerate the discovery, clinical validation, and FDA approvals of novel pharmaceuticals. He also advises Nanobiosym Diagnostics on its global healthcare portfolio. Dr. Langer is the David H. Koch Institute Professor at MIT. He has written more than 1,190 articles. He also has 810 issued and pending patents worldwide. His many awards include the United States National Medal of Science, the United States National Medal of Technology and Innovation, the Charles Stark Draper Prize (considered the engineering Nobel Prize), Albany Medical Center Prize (largest US medical prize), the Wolf Prize for Chemistry and the Lemelson-MIT prize, for being "one of history's most prolific inventors in medicine." Langer is one of the very few individuals ever elected to the Institute of Medicine, the National Academy of Engineering and the National Academy of Sciences and is the also the only engineer to receive the Gairdner Foundation International Award; 80 recipients of this award have subsequently received a Nobel Prize. Forbes Magazine (1999) and Bio World (1990) have named Dr. Langer as one of the 25 most important individuals in biotechnology in the world. Discover Magazine (2002) named him as one of the 20 most important people in this area. Forbes Magazine (2002) selected Dr. Langer as one of the 15 innovators worldwide who will reinvent our future. Time Magazine and CNN (2001) named Dr. Langer as one of the 100 most important people in America and one of the 18 top people in science or medicine in America (America's Best).

Paul Maritz is Pivotal Chief Executive Officer from 2013, having previously served as Chief Strategist of EMC and CEO of VMware. During his tenure at VMware, he led transformation of the company from a technology leader in virtualization to a category leader in cloud computing. Maritz remains a member of VMware's board of directors. Prior to joining VMware, Maritz was President of the Cloud Infrastructure and Services Division at EMC after the company's February 2008 acquisition of Pi, where he was the founder and CEO. Before founding Pi, Maritz spent 14 years working at Microsoft, where he served as a member of the five-person Executive Committee that managed the overall company, and was responsible for the product development and marketing of the Windows Client.

Dr. Tarun Khanna is the Jorge Paulo Lemann Professor at the Harvard Business School, where he has studied and worked with multinational and indigenous companies and investors in emerging markets worldwide. He was named Harvard University's Director of the South Asia Initiative in the fall of 2010. He joined the HBS faculty in 1993, after obtaining an engineering degree from Princeton University (1988) and a Ph.D. from Harvard (1993), and an interim stint on Wall Street.  During this time, he has served as the head of several courses on strategy, corporate governance, and international business targeted to MBA students and senior executives at Harvard. He currently teaches in Harvard's Executive Education programs and is Faculty Chair for HBS activities in India. His book, Billions of Entrepreneurs: How China and India are Reshaping Their Futures and Yours, focuses on the drivers of entrepreneurship in China and India and builds on over a decade of work with companies, investors and non-profits in developing countries worldwide. His most recent co-authored book, Winning in Emerging Markets: A Roadmap for Strategy and Execution, was published by Harvard Business Press in March 2010.  Mr. Khanna advises Nanobiosym on emerging markets and global strategy.

Mr. Homi Mullan is former Vice Chairman, Investment Banking, at JP Morgan in London with special responsibility for Emerging Markets, and advises Nanobiosym on structuring partnerships and global strategy in emerging markets in Africa, the Middle East and Asia. Mr. Mullan served as Chairman of ESAB India Ltd between 2002 and 2004, and as Deputy Chairman and Senior Independent Non-Executive Director of Charter International plc (formerly, Charter plc) between 2001 and 2004. In addition to his advisory work with Nanobiosym, Mr. Mullan is Independent Non-Executive Director of Ascot Underwriting Limited, and Director of Anchor Associates Limited. He is the founder of Peregrine Partners Limited, a corporate finance boutique based in Dubai. Mr. Mullan graduated in Commerce with Honours from the University of Bombay and holds an MBA from Cranfield Business School. He is a Fellow of the Institute of Chartered Accountants in England & Wales and a Member of the Royal Economic Society.